N.S. Iliyushenko presented the program "Green sun" within the framework eIPO 2020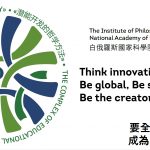 31.05.2020
Researcher of the Institute of philosophy of the NAS of Belarus N.S. Iliyushenko presented the program of additional education for children and adolescents "Green Sun" within the framework of the XXVIII International Olympiad in philosophy, which was held online on May 28-31, 2020.
Within the framework of the presentation, N.S. Ilyushenko noted the importance of development of the tools that help to form "global competencies" in the younger generation such as the ability to critically examine global issues from different points of view; be aware of how cultural, religious, political, racial and other differences affect people's perceptions, judgments and views; be engaged in open, respectful and effective interactions with others based on the recognition of the value of human dignity (PISA-2018). N.S. Iliyushenko noted that implementation of the program "Green Sun" contains tools that serve to develop these competencies.
During the presentation, the modular structure of the course and its thematic content were described. The steps to implement the "Green Sun" program into the system of Belarusian additional education were also named. The program was presented at the international Chinese exhibitions of imported goods and services in Shanghai (China) that were held in 2018 and 2019.
For more information, click here.