Collected reports of the first Belarusian Congress of Philosophy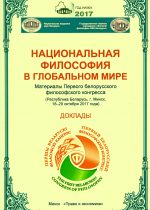 28.05.2018
The collection contains texts of reports prepared by the participants of the First Belarusian philosophical congress "National philosophy in the global world" (Republic of Belarus, Minsk, October 18-20, 2017). The presented scientific works reflect the modern understanding of the role and place of philosophical knowledge in the scientific picture of the world, the status of national philosophical traditions in the global philosophical culture.
The book was created for scientists, teachers, public experts, specialists of public authorities and administration, specialists of the educational system, as well as all those who use current developments in the field of philosophy and transdisciplinary methodology in their work.
Национальная философия в глобальном мире : материалы Первого белорусского философского конгресса (Республика Беларусь, г. Минск,
18–20 октября 2017 г.). Доклады / НАН Беларуси, Ин-т философии НАН Беларуси. – Минск : Право и экономика, 2018. – 766 с.
Files to download

event-2017-10-18-reports