Prime Minister of Belarus A. Kobyakov presented to A. Lazarevich Francis Skaryna Medal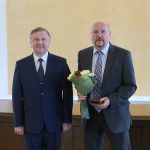 01.06.2016
On June 1, 2016 the Prime Minister of the Republic of Belarus A. Kobyakov presented state awards to prominent persons of science, education and culture. Among the recipients – the director of the Institute of Philosophy of NAS of Belarus Anatoly Arkadievich Lazarevich.
A. Lazarevich has been awarded the Francis Skaryna Medal by Presidential Decree of 25 March 2016 №110 for many years of fruitful work, considerable contribution to the development of science and education.
We congratulate the awardee and wish him new high professional and creative achievements!