Institute of Philosophy Celebrates its 85th Birthday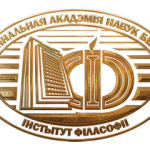 19.03.2016
On March 19, 2016 the Institute of Philosophy of the National Academy of Sciences of Belarus celebrates its 85th anniversary. Our institute is not simply one of the oldest research institutions in the country, but also an important center of philosophical research and intellectual culture, the cradle of the Belarusian academic school of philosophy, which has has earned renown in the country and abroad.
Our institute can be proud of its notable scientific publications that people read with interest and dispute about; major international scientific forums which have seen guests from four continents; honorable national and international awards. But the main wealth of the institution are certainly its talented scientists, experienced and young researchers – genuine heirs of the millennial tradition of philosophical and political thought of Belarus and those who will shape the Belarusian spirituality and culture in the XXI century.
We congratulate all employees of the Institute of Philosophy of NAS of Belarus, all those whose fate is linked to the activity of the scientific center: those who was involved in the post-graduate and doctoral studies here, discussed here scientific works, defended dissertations, as well as all of our colleagues, conference participants and international cooperation partners – with this remarkable anniversary!

We remind you, friends, that the main events in honor of the 85th anniversary of the Belarusian academic philosophy will be held in April-May this year. This is an international scientific conference "Philosophical knowledge and challenges of civilization development" (21-22.04.2016), the final of students' philosophical works contest and also anniversary-marking presentations, publishing projects.
[fb_button]