Online video interview with Professor of philosophy of the University of California at Irvine Duncan Pritchard took place at the Institute of philosophy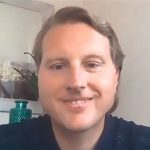 21.08.2020
On August 19, 2020, online video interview with Professor of philosophy of the University of California at Irvine Duncan Pritchard took place at the Institute of philosophy. Professor Pritchard has made a particularly significant contribution to epistemology.
During the interview, the philosopher spoke about the main directions of his research and answered a number of questions. In particular, such issues as the Gettier problem, the problem of skepticism, various theories of knowledge, rationality of religious beliefs, relationship of epistemology with other branches of philosophy, and other issues were raised. Professor Pritchard also shared his vision of the future of epistemology and its practical applications. Video recording of the interview is attached.
Interviewer – senior researcher of the Institute of philosophy, Doctor of philosophy, Candidate of physical and mathematical sciences I.E. Pris.