The Philosopher and the Time: Truth, Wisdom, and Virtue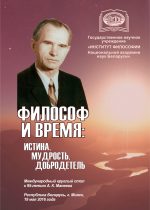 19 мая 2016 года Інстытут філасофіі НАН Беларусі праводзіць міжнародны круглы стол "Філосаф і час: ісціна, мудрасць, дабрачыннасць", прымеркаваны да 95-годдзя вядомага беларускага філосафа Аляксея Кліменцьевіча Манеева.
А. К. Манееў – чалавек цяжкага, але дзіўна насычанага лёсу. Ветэран, франтавік, арыгінальны і глыбокі мысліцель, ён унёс значны ўклад у філасофска-метадалагічнае пазнанне, у сучасную філасофскую анталогію і касмалогію. Гэты ўклад быў адзначаны складальнікамі анталогіі "Рускі касмізм", якая выйшла ў 1993 годзе ў Маскве, дзе эсэ А.К. Манеева пастаўлена ў адзін шэраг з працамі С.Н. Булгакава, П.А. Фларэнскага, К.Э. Цыялкоўскага, У.І. Вярнадскага і яшчэ аднаго выдатнага беларускага вучонага – акадэміка В.Ф. Купрэвіча. І сёння, знаходзячыся ў шаноўным узросце, А.К. Манееў працягвае цікавіцца навінкамі філасофскай думкі, пасільна ўдзельнічае ў навуковым жыцці інстытута.
Пад час круглага стала плануецца абмеркаваць актуальныя пытанні сучаснай філасофіі, логікі і метадалогіі навуковага пазнання, сацыяльнай антрапалогіі і экалогіі, звязаныя з рознымі бакамі шматпланавай творчасці А.К. Манеева. Зборнік навуковых прац, які плануецца выдаць па выніках форуму, стане яшчэ адным падарункам філасофскай супольнасці рэспублікі выдатнаму юбіляру.